Furniture Reupholstery Services in Colorado Springs, CO
Furniture Reupholstery and Refinishing
We Specialize in Furniture Upholstery.
We are the premier provider of Upholstery & Re-upholtery services. Our goal is to provide the very best in Upholstery and re-upholstery of all types of the industry. Because our quality control standards are high, our Upholsters are among the best in the business. Our goal is to always deliver the utmost highest quality of service because here quality is a necessity. We want you, our valued customer, to be happy.
Rocky Mountain Upholstery is a locally owned and operated, full-service upholstery shop specializing in quality coverings for all types of furniture. We have thousands of swatches for you to choose from, so whether you need your dining room chairs re-upholstered or a new cover for your sofa, we're the people to see.
Upholstery Shop Supplies & Services:
• Custom Upholstery & Re-upholstery
• Sofas, Chairs, & Love Seats
• Furniture
• Throw Pillows
• Custom Made Furniture Covers
• Foam Cushions & Mattresses
• Vinyl, Leather, & High to mid grade cloth.
• Custom Built Furniture
• Antique Furniture Reupholstery
• Mattress Covers
• Custom Cut Foam Cushions
• Custom Sized Down Cushions
• Duvets
• Upholsterd Head Boards
• Arm Covers
• Lawn Furniture Covers
• Awnings
• Outdoor Cushions
• All sorts of repairs- contact us for details.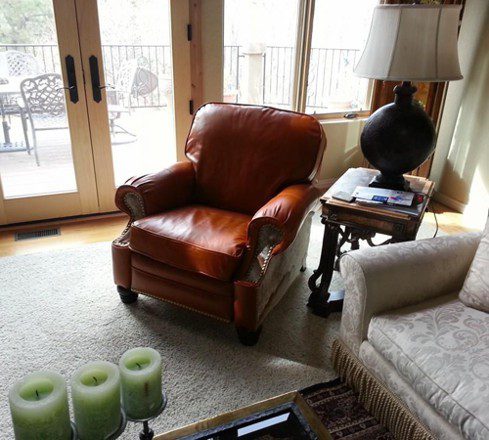 Furniture Cleaning, Repair and Re-Dying
If your furniture got that tired look but the leather or vinyl is in a reasonable condition, you may want to consider repairing, restoring, and re-dying instead of upholstering your furniture. This will provide you with huge cost savings compared with the alternative of replacement.
Permanent Lasting Repairs
• Specially formulated proprietary water-based products used in this market.
• Non-flammable and odorless.
• Reconditioned items dry in minutes and can be used almost immediately.
The value and quality of this service that we offer will offset a lot of your replacement cost and you can see a lot of the results by looking through these before and after pictures:
Estimate
We want to make it as easy as possible for you to know if we are the right choice for you. Fill out an estimate form and we will reach out and get you a quote!