Outdoor Furniture Upholstery
Outdoor and Patio Furniture Upholstery
Custom Upholstery for Any of Your Outdoor Projects!
From welted boxed cushions to cartridge style inserts and seat pads, we make all types of cushions for outdoor furniture in Colorado Springs, CO.
We also make custom cushions & pillows for premier outdoor furniture brands. In most cases we have the patterns for the piece you want. We have normal wear parts for all types of outdoor furniture, including, spring plates, glides, end-caps, clips, rivets and more!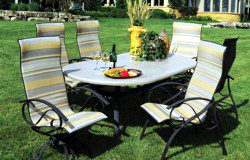 Replacement Patio Chair Fabric Slings
Our custom patio furniture replacement slings are made to your measurements. We offer the highest quality Outdoor Custom Replacement Slings to repair or replace your outdoor patio furniture slings. We offer outdoor furniture upholstery for chairs, chaise lounges, ottomans, love seats, and any other sling you would like to replace.
We select from the highest quality outdoor furniture fabric. At Rocky Mountain Upholstery Co., we have the largest selection of durable sling fabrics to make your outdoor furniture sling seating look like new.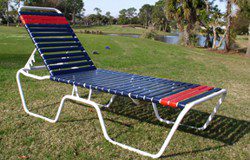 Vinyl Chair & Chaise Strapping
If you have better quality pool and patio furniture, consider repairing your vinyl strap furniture rather than buying new. Once again patio furniture repair is a "green" alternative to throwing it away and Vinyl Strap replacement can make your vintage vinyl strap patio furniture look like new.
Rocky Mountain Upholstery can replace the vinyl strap on your pool and patio chaises and chairs. We offer 50 colors of new vinyl strapping or plastic chair webbing for your outdoor patio furniture.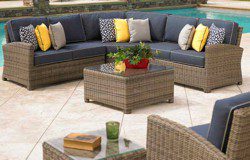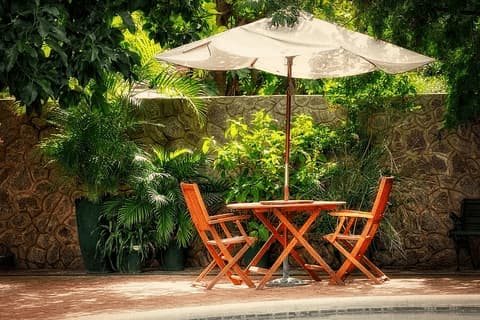 Quality Custom Outdoor Cushions
Rocky Mountain Upholstery can create the perfect outdoor furniture for your Colorado Springs home, including patio cushions to compliment your outdoor seating area. We can custom design a new patio furniture replacement cushion to fit most types of outdoor furniture including wrought iron patio furniture, cast aluminum chairs, deep seating outdoor furniture, teak or wood outdoor furniture or outdoor or all-weather wicker.
In addition to custom made patio cushions, we also offer universal patio cushions that are sized to fit a variety of patio furniture styles.
Our outdoor furniture upholstery team specializes in:
• Custom Outdoor Cushions
• Manufactured Quality Outdoor Cushions
• Homecrest Style Slings & Cushions
• Custom Patio Furniture Pillows
If you have a custom outdoor cushion project, please contact us. You may need to send us an old patio furniture cushion to use as a pattern or you can simply drop by and see our large selection of outdoor fabrics.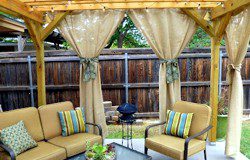 Outdoor Curtains
Adorn your porch, outdoor room, or patio in beautiful elegance with custom outdoor drapes made with the finest, most durable outdoor solution dyed fabrics! With hundreds of in-stock fabrics to choose from or the ability to send us your own fabric, Rocky Mountain Upholstery prides itself in making the perfect custom drape to our customers specs.
We feature Sunbrella and Outdura fabrics, which carry a warranty against fading and stretching. More and more homes and business are using outdoor drapery panels for additional shade, privacy and style.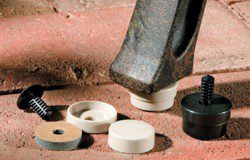 Patio Furniture Parts and Forever Glides
We have patio furniture repair parts to fit most outdoor furniture. Round glides, spring plates, glider arms, patio chair glides & more.
Forever Glides are the revolutionary, self-levelling replacement guides for Wrought Iron, Cast Aluminum and Wood Patio furniture. Forever Glides are designed to replace those missing plastic, pop in, furniture glides with self-levelling glides that actually stay in place.
No more wobbling chairs and tables and no more shredded decks.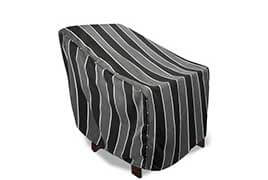 Patio Covers
Don't let the rain or shine ruin your beautiful outdoor furniture! Protect it with a cover from our partners at Outdoor Cover Warehouse. They off a wide selection of stylish covers for sectionals, tables, chairs, barbeques, and more!
Estimate
We want to make it as easy as possible for you to know if we are the right choice for you. Fill out an estimate form and we will reach out and get you a quote!