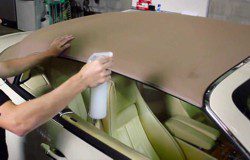 Glass Windows
Glass Windows should be cleaned with water based glass cleaners only.
Please be extremely careful when cleaning Heater/Defroster glass windows not to scratch the defroster lines or to break the power source connector wire.
Cleaner should never be allowed to drip into seams or heat seals.
Plastic Windows:
Plastic windows in convertible tops should be cleaned frequently. Be sure to hose or blow off loose dirt particles from surface first, and then use either plain water or mild soap and water solution. Apply with a soft cloth or tissue to gently clean window. Always clean in a side to side or a top to bottom motion, NEVER in a circular motion, (cleaning in a circular motion can damage plastic windows). There are also several good plastic cleaners available such as "Meguiar's Mirror Glaze Formula 17". Never use harsh brushes or abrasives when cleaning plastic windows.
Use of Vinyl Preservatives:
We do NOT recommend use of penetrating vinyl preservatives, conditioners or dressings on tops, Tonneau covers, and other products.
Cleaning Tops, Tonneau Covers and Other Products Made in Cloth or Vinyl Toppings:
We strongly recommend hand washing convertible tops and other products. Tops and other products made in vinyl toppings can be cleaned using Vinyl Cleaners such as Malco which are widely available. While car washes generally will not harm convertible tops made in Cloth or Vinyl Toppings, never allow a car wash to apply spray wax to your convertible top.
To Hand Wash Our Products:
Use Ivory or other mild soap flakes in a bucket of lukewarm water. In hard water areas add Calgon (not to be confused with dishwasher detergent) or other water softener until the water feels slippery.
Always: Wash Tops, Tonneau Covers, etc. in the shade, never in direct sun.
Always: Wash entire Top, Tonneau Cover, etc. Never spot clean to avoid rings or bright spots.
Always: Wet entire car before washing Top. Use sponge or soft bristle brush to apply suds. Do not use a chamois or cloth since these will leave lint on Cloth Tops.
Always: Rinse well with hose making sure to remove all traces of soap. Wipe off excess water with sponge. Please be careful to hose down entire car to prevent soap from streaking paint.
Always: Install Tonneau Covers and Top Boots after cleaning while still damp to preserve fit and shape.
Always: Try to move Tops into direct sun after cleaning and thorough rinsing to dry. Chamois all excess water off body of car.
Do Not: Use detergents, bleaches, harsh cleansers, cleaners or abrasives.
Do Not: Use dry-cleaning solvents, etc.
Do Not: Use hot water.
Do Not: Lower down or cover convertible tops when wet or damp. This can lead to mildew growth and in extreme cases can cause discoloration or rotting of toppings can occur.