Custom Aircraft Seat Upholstery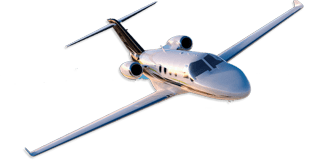 Custom upholstery for any of your Aviation projects!
All of our materials are FAA Burn Certified.
We offer a wide range of aviation upholstery services, including replacing your worn-out seats and creating special custom interiors for your aircraft. Our team is fully prepared to take on any project, regardless of the scope. When it comes to our aircraft upholstery service, we value quality above all else.
Let us help you with any of your aviation needs.
Aircraft Seat Upholstery Assemblies
Aircraft upholstery sets are not to be confused with slip-covers, as they completely replace the old upholstery.
Upholstered cushion sets, bucket seat type upholstery sets, and upholstery foam cushion replacement sets are beautifully tailor-made by expert craftsmen.
We believe in "Quality First" when it comes to customers and work performed on any aircraft to meet and exceed high standards.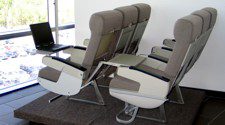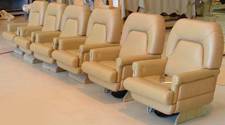 Cleaning, Repair and Re-Dying Services
We offer aviation upholstery services that are targeted at leather, vinyl, and plastic surfaces used for interior components of aircraft. These components would include side panels and reveals, headliners, seat bases, window reveals, table tops, drink rails, and aircraft seat upholstery.
The industry uses many different types of plastics, vinyls, and leathers to accomplish both practical and maintainable surfaces but also to bring elegance to these interiors.
Airplane Headliners
Airplane Headliners are carefully tailored for a good fit, with a minimum of installation labor.
All necessary attaching strips and inspection zippers are all sewed in place and we will help you choose the color that would perfectly match the rest of your aircraft interior.
For all our highly trained technicians and craftsmen, the highest standards in value and workmanship is our everyday norm.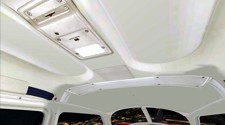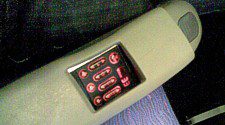 Airplane Seat Slings
Airplane seat slings are made of extra heavy-duty vinyl-coated nylon fabric, carefully reinforced at points of strain, and are equipped with any necessary snaps, grommets or cords, same as the original.
All the armrests also may be re-foamed and covered with a material of your choice matching the design of the rest of the aircraft interior.
Airplane Wall Panel Sets
Is the material on your sidewalls torn or shabby or cracked?
We can repair and cover your sidewall panels with new foam and a material of your choice like vinyl, fabric, ultra-leather, or carpet material. You may even choose to use a combination of the materials to re-fresh the design of your aircraft interior.
We can also cover the sidewalls with additional layers of special sound-proof materials to reduce the noise inside your aircraft during the flight.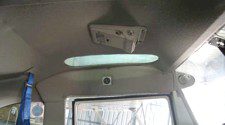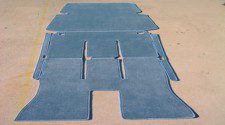 Airplane Carpet Sets
Our airplane carpets are made of beautiful longer wearing, lightweight 100% nylon pile carpeting with luxurious soft foam backing.
Airplane Premium Upholstery
In addition to our regular line of fabrics, two premium fabrics are available. DURALIFE and DURAWEAVE.
Both types feature extreme durability, easier cleaning, improved comfort and high resistance to tears, snags and raveling.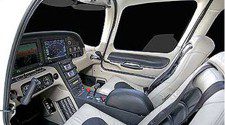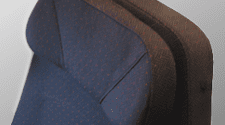 Airplane Head Rest Covers
We can supply headrest covers to match your cushion upholstery.
Send one sample cover or photo with your order.
Estimate
We want to make it as easy as possible for you to know if we are the right choice for you. Fill out an estimate form and we will reach out and get you a quote!